Demonstrator Technical Description
Hardware and Software Specifications
Keywords:

Hardware, software, data requirement, networking, client-server architecture

DRAFT Release 0.2, 6 November 1996


Author: Kurt Fedra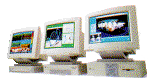 Hardware Requirement
The ECOSIM SERVER requires a UNIX workstation with a high-resolution graphics system (1280 by 1024), 256 simultaneous colors, i.e., an 8 bit graphics frame buffer) with 32 MB RAM and, depending on the application, 1 GB of (data) disk space or more.



Operating System
The ECOSIM SERVER will be supported on SUN Sparc architectures, under SUN Solaris 2.5 or higher.
Support for alternative architectures and operating systems (HP UX, IBM AIX, Intel Linux) can be arranged, but would require additional resources not foreseen in the project.
In addition to the operating system, X Windows run-time libraries (usually part of the basic systems software. Under SUN Solaris, the necessary libraries and tools are available under /usr/openwin/lib and /usr/openwin/bin.
Window Manager:
Common Desktop Environment (CDE)

The system will also require a http demon (httpd) for the client-server integration and Internet access. For more information on http and setting up a local Web server, see, for example:
Liu, Peek, Jones, Buus, and Nye (1994)

Managing Internet Information Services. 630 pp., O'Reilly & Associates, Inc. Sebastopol, CA. ISBN 1-56592-062-7.

Networking
The host of the ECOSIM SERVER will require Internet access for some of its intended functionality. To access remote computing and data resources, a minimum of 64Kb/s will be required (e.g., through an ISDN phone line).



Auxiliary Tools:
As external tools for data preparation, editing etc, the following tools are recommended:
basic screen editor like vi
graphical editors and image conversion programs, including xv, xpaint, giftrans
a standard GIS for geographical data capture and editing, for example:
Arc/Info (powerful but expensive);
IDRISI (PC based, reasonably cheap);
GRASS (public domain);