Information Resources and Services:

In support of our project activities we build and continuously update and expand a large repository of on-line environmental information resources.

We offers customized data research and exploration, including Internet search, data processing and analysis and the preparation of specific reports and analyses based on these information resources, as well as direct on-line access to subscribers.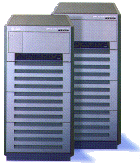 Institutions and Environmental Internet Resources:
National and international institutions and agencies, NGOs;
Actor and stakeholder data bases:
Directories/links of environmental sites and information resources;
Data bases and meta-data bases of environmental information:
Geographical, climatological, and hydrological data
Environmental guidelines, standards, etc
Environmental legislation (primarily within the European Union)
Environmental projects and case studies
Time-series of meteorological and environmental monitoring data
Links to global-change data collections.
A large repository of Environmental Software:
Data analysis and visualization tools, model animation
GIS and satellite image processing