| | |
| --- | --- |
| WaterWare: | The Kelantan River Malaysian case study |
Client:
National Hydraulic Research Institute of Malaysia (NAHRIM), KADA

on-line demo
Country:
Malaysia, Kelantan Province
Partner:
MMASTEC ENGINEERING SDN. BHD., Kuala Lumpur, Malaysia


Case study description:
The Kelantan river drains the province of Kelantan in north-eastern peninsular Malaysia. A catchment of about 12,000 km² (upstream of Guillemard bridge) and an altitude difference of more than 2100 m generates an average runoff of about 500 m³/sec, with the variations of the local Monsoon climate. The variability of rainfall with extreme monthly values between 0 and 1750 mm in dry and wet months, respectively, already suggest the main problem: reliability of water resources for the rice paddies that supply about 12 % of national production. Droughts and floods that affect the efficiency of the irrigation system, continuing changes in land use, and the potential of water pollution from intensive agriculture pose a range of problems that require innovative tools for their solution.
The application is specific for water resources management in a paddy growing area in North East of Penisular Malaysia i.e an area of around 30,000 ha under the Kelantan State Development Authority KADA). This area is a coastal belt of Sg. Kelantan River.
The main problem in this area is water shortage during the dry season (March to May) and flooding in the monsson season (November to January). The water management should be able to help in providing a sustainable water resources development with minimal conflicts between the needs of government, the local community, land developers and water users such as KADA, Water Supply Department, and the Drainage and Irrigation Department (DID)

The main objectives are: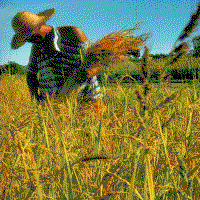 To develop and implement a hydroinformation system for optimal, economically efficient allocation of water resources for improved paddy production;
To determine optimum water resources mangement strategies during the dry period and droughts and the peak irrigation season;
To identify environmental and ecological impacts of watershed development that may affect the water resources and stream flow patterns;
To evaluate the water pollution and its impact on irrigation, industry, domestic water supply and also river fisheries.
Systems components and functions:
A set of data bases for numerous classes of river basin objects, and time series of observation data, linked on-line to the local monitoring system, with basic statistical data analysis tools;
A geographical information system for georeferenced information, including standard point, line, and polygon data, and cell grids (digital elevation model and satellite imagery (Landsat TM);
A generic river basin/network representation, linked to the data bases and simulation models;
Several linked simulation models for scenario analysis including a rainfall-runoff model, irrigation water demand modeling, a dynamic river basin model, and water quality models, as well as an embedded expert system for environmental impact assessment.
The system is implemented as a distributed client-server system, with Intranet access from remote clients to the main central server.